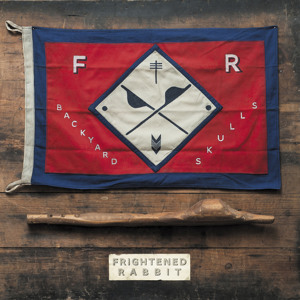 2013 may finally be The Year of the Rabbit. Following on from their career-high top ten (#9) fourth album, the FRabbits released the 'Backyard Skulls EP' earlier this week.
The EP is made of up of 'Backyard Skulls', the second single from the acclaimed 'Pedestrian Verse', as well as alternate versions of previous single 'The Woodpile' and 'Holy', a live recording of 'Acts of Man' from the Barrowlands sellout gig in February and the pre-order exclusive and forthcoming Record Store Day release 'Norland Wind', which sees them team up with Lau.
The alternate versions of the album tracks give them a whole new breath of life and it could be argued that the alternate 'Holy' is better than the album version itself. The song is pulled right back to its bare bones and thusly has an even more powerful effect than its original incarnation.
The live recording of 'Acts of Man' is a perfect teaser for any forthcoming performances and showcases the blistering live show they have perfected throughout years on the road. It's also a brilliant keepsake for anyone who was lucky enough to attend the Barrowlands show and witness this band at the top of their game.
The true gem of the EP is Norland Wind. A collaboration with friends Lau, this track has all the layers and majesty of a true Scottish anthem. It's unlikely you've heard anything like it this year and you probably won't for the rest of the year. It might just be one of the best songs Frightened Rabbit have produced in their nearly 10 years of existence, toweringly beautiful.
The 'Backyard Skulls EP' is a digital-only UK release and is available via iTunes for only £1.99. 'Norland Wind' will be released on Record Store Day, April 20th, on one-sided etched 7" and is limited to only 500 copies. Go support your local record store and Frightened Rabbit by picking one up.